Exclusive First Look: New Vintage of Rosé Wines
Discover new 2022 rosé wines with an exclusive collection from WTSO! For two days only, mix & match the iconic crisp and fresh flavors of our latest pink wines from Provence.
On March 29-30, 2023, enjoy access to springtime savings up to 71% off when you order from this premier selection of wines. Stock up during the Spring Rosé Wine Event to prepare for a refreshing spring and summer with free shipping on every 6 bottles purchased!
A Sneak Peek of Available Wines:
Vallée des Pins Provence Rosé 2022
Sieur d'Eguilles Coteaux d'Aix en Provence Rosé 2022
Belles d'Eguilles Coteaux d'Aix en Provence Rosé 2022
Crépuscule Coteaux d'Aix-en-Provence Rosé 2022
Les Quatre Tours 'Classique' Provence Rosé 2022
The Provence Wine Region of France
Provence is a wine region located in the southeastern part of France, known for producing some of the world's best rosé wines. The appellation's long history of winemaking, combined with its sunny Mediterranean climate, makes it an ideal place for growing grapes. 
The rosé wines produced in Provence are characterized by their light, crisp taste and their pale pink color. They are made from a blend of different grape varieties, including Grenache, Syrah, and Cinsault, and are often enjoyed as a refreshing warm weather drink.
Provence's rosé wines have gained immense popularity in recent years, both in France and around the world. They are now considered a staple of the region's cuisine and often enjoyed with local recipes such as bouillabaisse and ratatouille. The wine's delicate flavor and aroma make it a perfect pairing for spring dishes like seafood, salads, and other light dishes.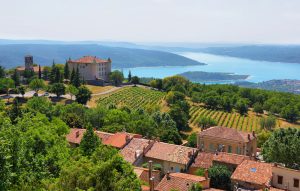 Rosé Wine Pairings: Try These Recipes
Traditional Ratatouille
Simple Pasta Provençal
Grilled Chili-Garlic Swordfish
Easy Pan Bagnat
Niçoise Salad
Don't miss out on the chance to try the newest vintage of Provence rosé wines without having to travel to France! Visit us at WTSO.com for special wine discounts. Be sure to sign up for emails so you don't miss out on any deals.